Books & Gifts
When people experience infertility, it is such a difficult time for them and their loved ones. During challenging times, often people don't know what to say or do. If you want to be inspired and find hope along your journey through infertility, do yourself or your loved one a favor and purchase a copy of Detours: Unexpected Journeys of Hope Conceived from Infertility. You will learn how to navigate the infertility maze, cope with the stress of treatment, balance your career and infertility, gain support when you need it most, view your challenges through a different lens, hold on to hope against all odds, find your resolution and regain happiness.
If you'd like to support a friend or family member, please consider purchasing a JOURNEY OF HOPE wristband, one of my In-Fertility & Friendship support greeting cards or any other Journey of Hope gifts I have created, some of which are custom-made just for the recipient. My Journey of Hope gifts are unique and will serve as a reminder of your love and support. The cards are just perfect for letting your loved ones know you are thinking of them during their difficult time. I have created cards for people going through IVF, ISCI, embryo transfers of any kind, adoption, when spouses are traveling, generic medical procedures, and much more. A portion of the proceeds from Detours and the wristbands will be donated to RESOLVE: The National Infertility Association. Thank you in advance for your purchase. Together we can make a difference!
wristbands for $2.00
The JOURNEY OF HOPE wristbands remind you that you are not alone. At times on your journey, your direction will be clear, but other times you may find yourself on uncertain detours. The sky blue and white colors of the wristbands represent those "partly cloudy, partly clear" times. As you face the twists and turns on your journey, the compass symbol will help guide you to your destination, whatever that may be.
Available for only $2.00 a piece, a wristband makes a perfect gift for a loved one who is struggling with infertility. Recipients are sure to be touched by your thoughtfulness and reminded of your support, as they navigate their infertility detour.
A portion of the proceeds from the sales of Detours and wristbands will go to RESOLVE National Infertility Association, to further support those who desperately want to have a family.
To order wristbands or cards, please email Sue Johnston: sjohnstonadvoacate@gmail.com
Calendars are essential when on an infertility detour. I've created one to hopefully provide inspiration and even a little bit of humor while you are going through your treatment. The calendar consists of 12 different card photos, one for each month of the year and the "Leap of Faith" image for the front cover of the calendar. Please click on the images to scroll through the calendar. All images were imagined by Sue Johnston and created by Madeleine Kimble. Calendars are $19.99 + tax and shipping. For more details, email Sue Johnston: sjohnstonadvocate@gmail.com
Click on Calendar below to scroll through and see all twelve months.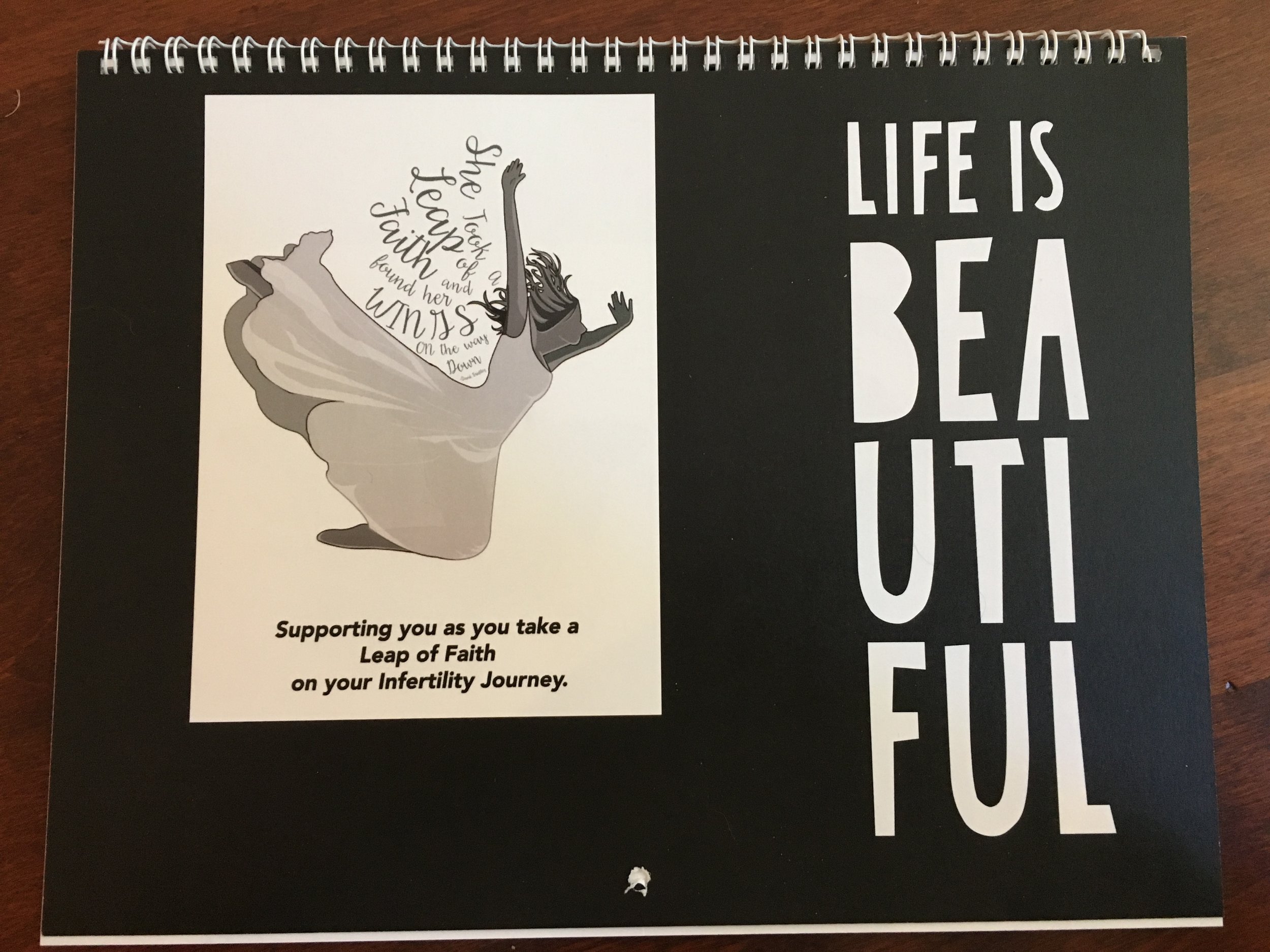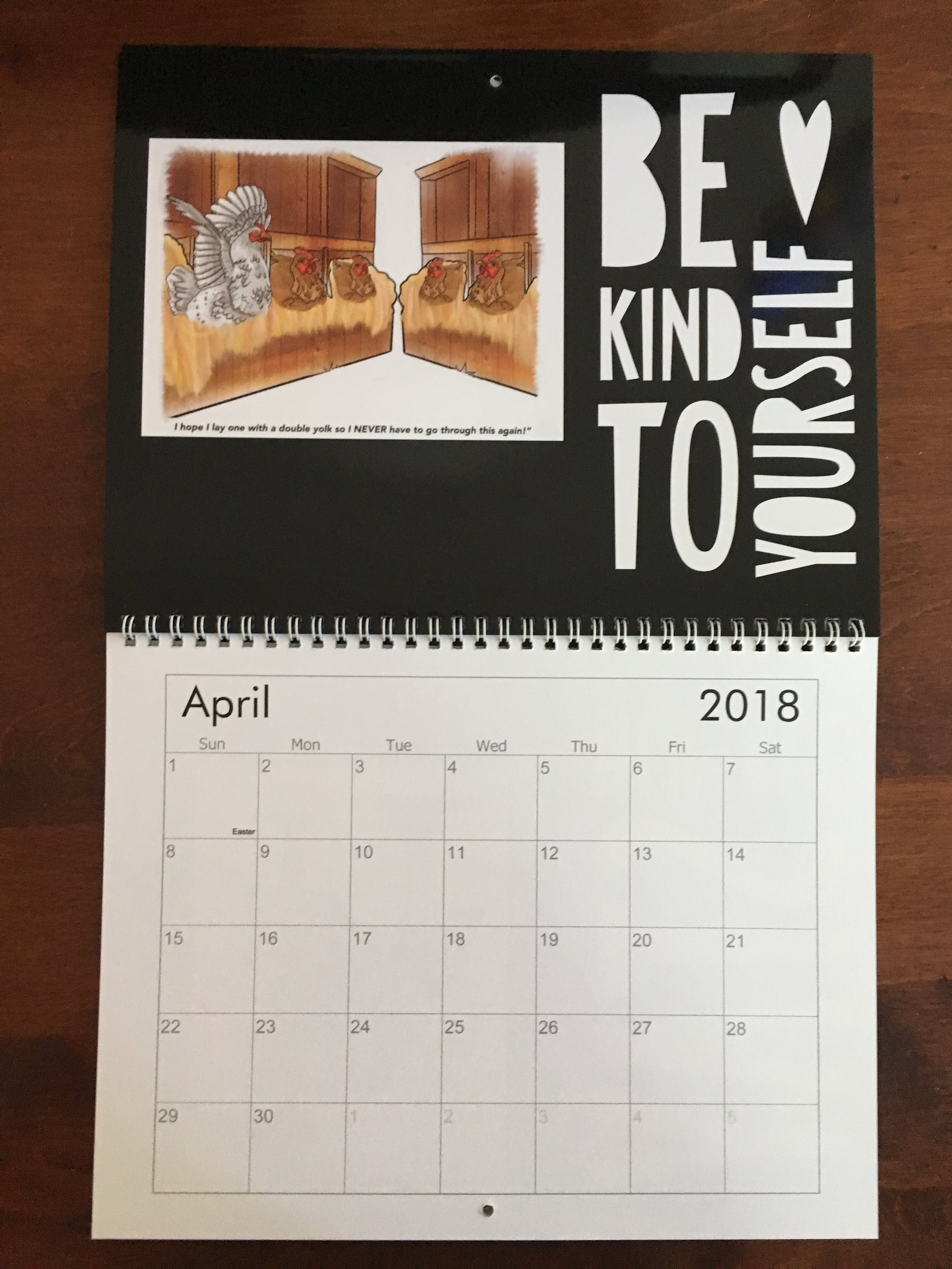 This Detours t-shirt captures the image of the cover of the book. We are a community walking hand-in-hand on the infertility journey. You will never be alone when you are wearing this t-shirt. Shirt is $24.99 + tax and shipping. Email Sue Johnston for details: sjohnstonadvocate@gmail.com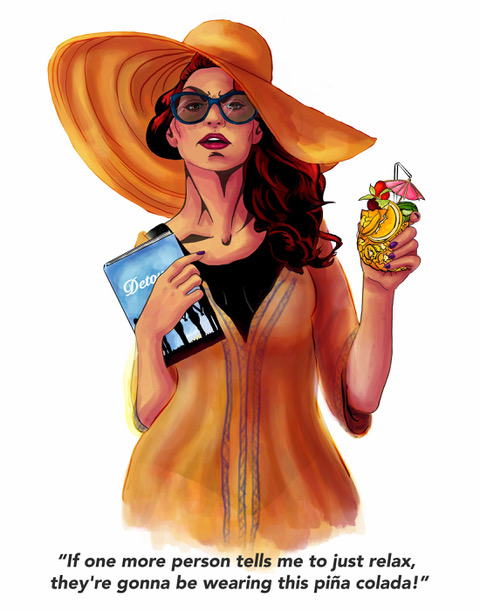 Scroll through to see all greeting cards available for purchase $4.95
I was inspired to create my In-Fertility & Friendship greeting cards during the production phase of Detours. There are so many support cards for people during their pregnancies and after their deliveries, but very few, if any, greeting cards to support the infertility community.
I imagined different scenarios where people would be needing support during their infertility journeys. I came up with the fun verbiage and ideas for the characters and settings for each card.
My dear friend and artist of Detours, Madeleine Kimble, illustrated my ideas for the cards through the graphics art program she uses on her computer. Cards are $4.95 a piece and are perfect to send to someone who is trying to build their family.
This adorable Detours hat is custom-made and hand embroidered especially for you. The fleur- de-lis is the symbol at the top of the compass on the title page in Detours. May this hat help you navigate your infertility journey until you reach your resolution. Hat $24.99 + tax and shipping. For more details, please email Sue Johnston: sjohnstonadvocate@gmail.com