My Journey Toward ArtPrize: Every Accomplishment Comes with the Decision to Try
In September 2017 an artist friend of mine asked me to accompany her to the Grand Rapids ArtPrize, where some of her oil pastel artwork was on display at the world renowned competition. I was so excited for my friend and told her that it would be an honor to be her guest at such an incredible event. It was a crisp fall day when we made the two-hour drive from Ann Arbor through the rural Michigan countryside to Grand Rapids in her convertible... with the top down! Whoo-hoo! We stopped for hot cider and donuts at a local farmer's market on the way. It was the beginning of a perfectly wonderful day.
Arriving in Grand Rapids we could feel the excitement in the air as we drove around the city in search of a place to park. ArtPrize signs decorated every lamp post and venue in the bustling city. We hustled through the already crowded sidewalks and made our way to the reception venue for artists. This was a modern art-deco lounge/reception room on the top floor of Music Building. The floor to ceiling windows overlooking the heart of Grand Rapids provided the perfect view. We were welcomed by hospitable greeters who gave my friend her exclusive artist name badge on a special ArtPrize lanyard. I was given my guest pass. We were invited to come, rest and relax in the lounge and enjoy complimentary refreshments, beverages, wine and beer at any time during our ArtPrize visit.
Since it had been a long drive for us, we quenched our thirsts with a bottle of water and took in the exhibits that were on display at the artists' reception area, while plotting our day on the map of venues. There were other artists from all over the world mingling in the reception lounge. After a few minutes, a young Japanese lady, eager to meet fellow artists, introduced herself to us. Conveniently, she showed us photos on her phone of her exhibit and a few other incredible pieces of artwork in her portfolio. Her artwork was amazing! Within the first few moments at ArtPrize, I was awestruck at the thought of the spectacular art I was bound to see at this competition. Soon we were off to explore every nook and cranny of Grand Rapids to maximize our ArtPrize experience.
Our first stop of the day was at Fifth/Third bank, as this was the venue where my friend's artwork was on display. I marveled at her oil pastel renderings of a Grand Rapids cityscape and another of the Grand Rapids River Bridge. Chills covered my body at that moment; I was so proud of her for being accepted to this competition.
Throughout the day, I saw artwork of all kinds, shapes and sizes. From huge outdoor sculptures that needed to be installed with giant cranes, to small delicate and intricately detailed paintings, ArtPrize had it all. Every kind of media was presented: watercolors, oil paintings, charcoal sketches, mosaics, fiber arts, two and three dimensional pieces... you name it, you could see it.
My friend and I decided that we would attempt to see all twenty winners from the different genres. As we meandered through the heart of the city to find all the winners, I began to notice a theme. To me, it seemed that all the top winners were artists whose work conveyed some sort of social awareness such as: hunger, poverty, social acceptance, community living, protecting our environment etc. Throughout the day, I kept thinking to myself, how can anyone accomplish such incredible works of art? I just don't have that kind of talent.
As we entered one particular venue, an official ArtPrize volunteer told us that one of the top winners, a woman who had written a poem about poverty in America, was about to recite her poem. My friend and I scurried to the location of her exhibit just in time to hear her oratory. At that moment it struck me that writing is a form of artistic expression. The poet's message planted a seed in my head. For the rest of the day, I couldn't stop thinking about the possibility.
Hmmmph... I wonder if I could write a poem on infertility awareness?
About half way through our day, my friend and I were ready for a lunch break and agreed upon a Thai food place. The Bangkok Taste Cuisine Cafe was a welcome respite for our ArtPrize-weary bodies. The restaurant was pristine and the serene Asian decor was quieting to our senses. We were able to rejuvenate and enjoy a delicious meal at one of the black lacquered tables that filled the dining room. Soon we were nourished, rested and ready to tackle the rest of ArtPrize with vigor.
By the end of the day, after seeing as many exhibits as we possibly could, we were ready to head home. With sore feet and exhausted bodies, we sunk into the comfort of the convertible. On the ride home, the brisk fall air whipped through our hair and stung our faces, keeping us awake. It was probably too cold to have the top down, but there was an incredible sunset that evening that we just didn't want to miss. I remember thinking to myself that God was using the sky as his canvas. I took photos from the open car so that I could remember the glorious pink, orange and magenta colors that striped the vast sky. What an amazing day! I wonder what it would be like to be an ArtPrize artist?
For the next week or so afterwards, I couldn't get ArtPrize out of my mind. The "Poverty in America" exhibit where the poet rhythmically recited her inspirational message echoed in the forefront of my mind. One day I found myself sitting at my computer composing my own infertility awareness poem, which I titled "We Are the One in Eight." The thoughts, emotions and words came easily to me, unlike the decade long struggle and heartache we endured to have our one and only child. To my surprise after just a few hours of writing and editing, I was satisfied that I had written something that could truly raise awareness for those who desperately long to love a child of their own.
I sent a copy of my poem to my Detours: Unexpected Journeys of Hope Conceived from Infertility editor, Lyndee Henderson and she LOVED it. She gave me a couple of suggestions and I made a few modifications. Soon afterwards, I shared my poem with my Artprize friend. I asked her if she thought I should enter my poem in ArtPrize 2018, and she wholeheartedly thought I should.
Now, as I should further explain... I am NOT an artist. I will admit that I have a creative flare, but I have never in my life entered any kind of art competition, let alone the largest competition in the world. Total prize monies are over $500,000.00!! Although the thought of entering such a competition was intimidating to say the least, something inside of me tugged at my heart and said, just do it!
In April of 2018 I submitted my proposal to the ArtPrize Committee. The next thing I had to do was secure a venue that would accept my poem and figure out how I was going to display my work. Out of 175 venues, about half of them are indoors. I knew I needed an indoor venue as I didn't want it expose my poem to the elements, so the number of potential venues was already cut in half.
Around the same time of submitting my proposal, I started asking my social media followers for photographs of images and people that depict the atypical and emotional infertility journey. Before long, I was receiving photos from around the world of people preparing for their upcoming IUI's or IVF's. Some were people who had decided to adopt or foster a child. Others were from people who had gone the surrogacy route. Some were from those who had to learn to accept their childless not by choice lives. The photos I had been receiving perfectly depict the human toll that the disease of infertility inflicts upon couples. I decided to print the photos in black and white to provide continuity and impact. The photos are profound.
In May when I went to Infertility Advocacy Day in Washington D. C. , I met an amazing man who worked in an infertility lab. He was willing to take photos of the scientific side of infertility. He sent me photos of: cryopreservation tanks, microscopic embryos dividing, blood lab work, ultrasound machines, embryos loaded into catheters etc. The photos are fascinating and so powerful. I am beginning to feel like I'm really onto something here.
When I returned from D.C., I spent several days to apply to at least 75. Now there was nothing left to do but wait and see if I'd be accepted by one of them. I am not the best at the waiting game as I'm sure my fellow infertility warriors can relate.
In the meantime, my neighbor, who is the manager of a warehouse storage facility, knew I was thinking of mounting my poem on an empty cradle. She called me one day and said that someone had moved out of a unit awhile ago and left an empty cradle behind that they no longer needed. It felt like a sign when she showed up on my doorstep with an old baby cradle. It was in pretty bad shape, but with a little TLC, I restored it. Since a phrase in my poem conveys that my world was colorless without a child, I decided to paint it black.
I still had this nagging voice telling me that I was CRAZY to think that a venue would accept my proposal. I didn't have an art portfolio of my other work to submit with my application, like assuredly most of the other professional artists had. I had ZERO experience. I had never entered an art competition before and I really wasn't even sure how I would create my exhibit or how I'd mount my poem. I hope my exhibit doesn't turn out like an elementary school project!
Nevertheless, I decided to accept my editor friend Lyndee's offer and drive four hours to her house in Chicago to experiment in her studio with her art supplies. I needed to get a feel for what kind of medium I wanted to use for my exhibit. I thought to myself, well.. if I am not accepted, I can at least try to donate the infertility awareness exhibit to a local IVF clinic. Nothing ventured, nothing gained!
(NOTE: Click on the gallery below to see some of the photos taken while exploring what kinds of media to use for my exhibit.)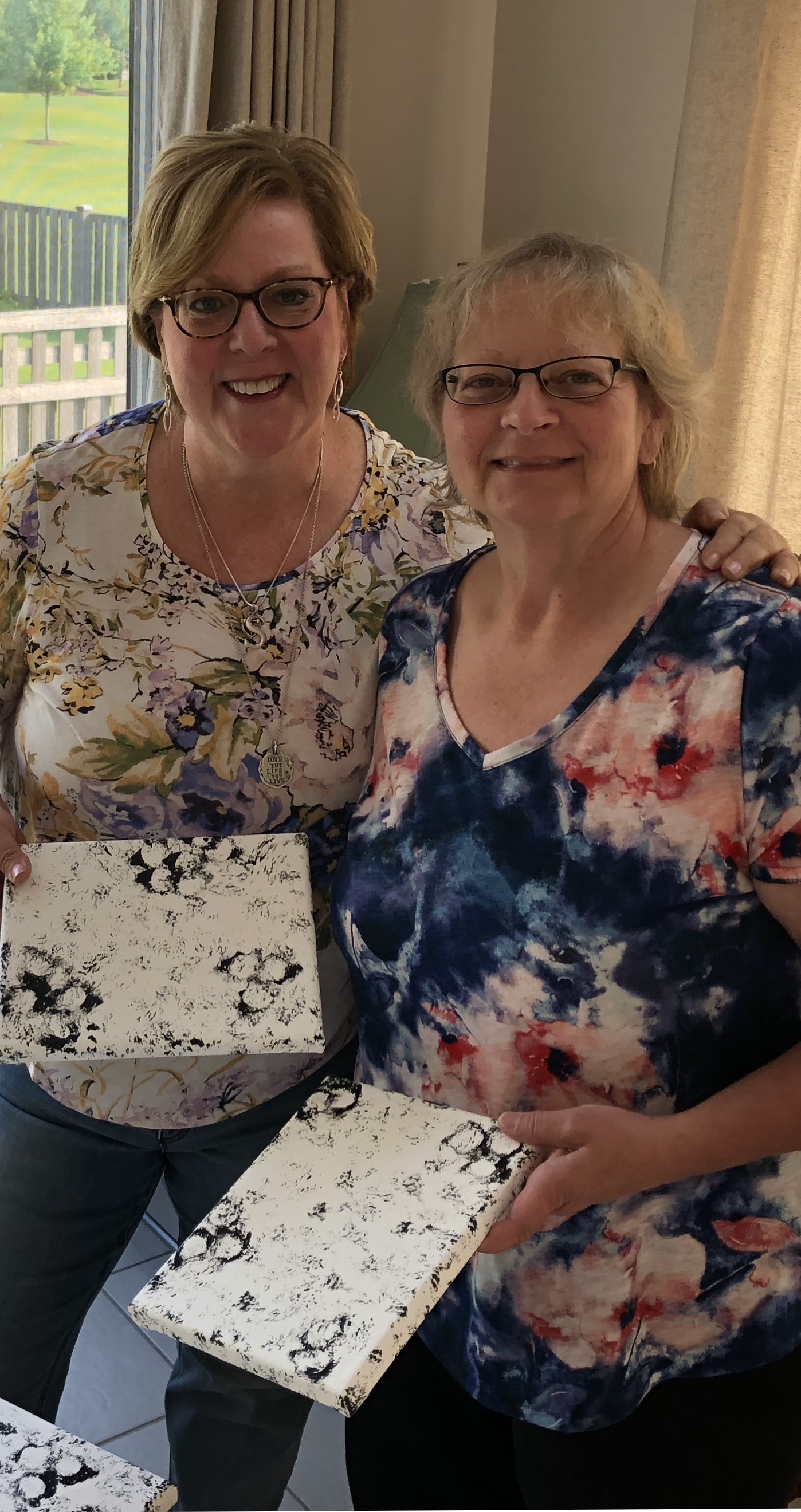 No sooner had Lyndee and I settled on a mutually agreed upon weekend for my visit, when lo and behold, I received an email from the owner of the little Thai restaurant where my friend and I had lunched during ArtPrize the year before. She was offering to host my infertility awareness exhibit in her restaurant, should I choose to sign the "hosting agreement." Within moments, I signed the agreement and was officially accepted as an ArtPrize contestant!!!! I was over-the-moon-excited at my acceptance, which made the whole project take on a new life. To top it off, I am thrilled that my exhibit will be housed in the contemplative environment of the Bangkok Taste Cuisine Cafe. PINCH ME! I just cannot believe this is real!
That evening when my husband and son got home from work, we shared a glass of champagne. They were so happy for me too. I set off for Lyndee's home two days later and worked on my exhibit for three days. I am still in the development process of my exhibit, and need to see how this whole thing is going to come together. Although I have a vision now and a real purpose, I'm still a bit nervous about how it's going to turn out. Lyndee assures me that the poem is worthy enough to stand on its own. I plan to put my heart and soul into making my exhibit the best it can be. I have until mid-September for it all to come together. So, if I have to go back to the drawing board a few times, and if mine doesn't turn out as good as a professional artist's, at least I made the decision to try! I am thrilled to have this opportunity to spread awareness about the disease of infertility. For that reason alone, I already feel like a winner.
In-Fertility & Friendship,
Sue
P.S. If you or anyone you know is or has struggled with infertility and would like to share your photo/s, please send them to my email address: sjohsntonadvocate@gmail.com. Thanks in advance for your support!